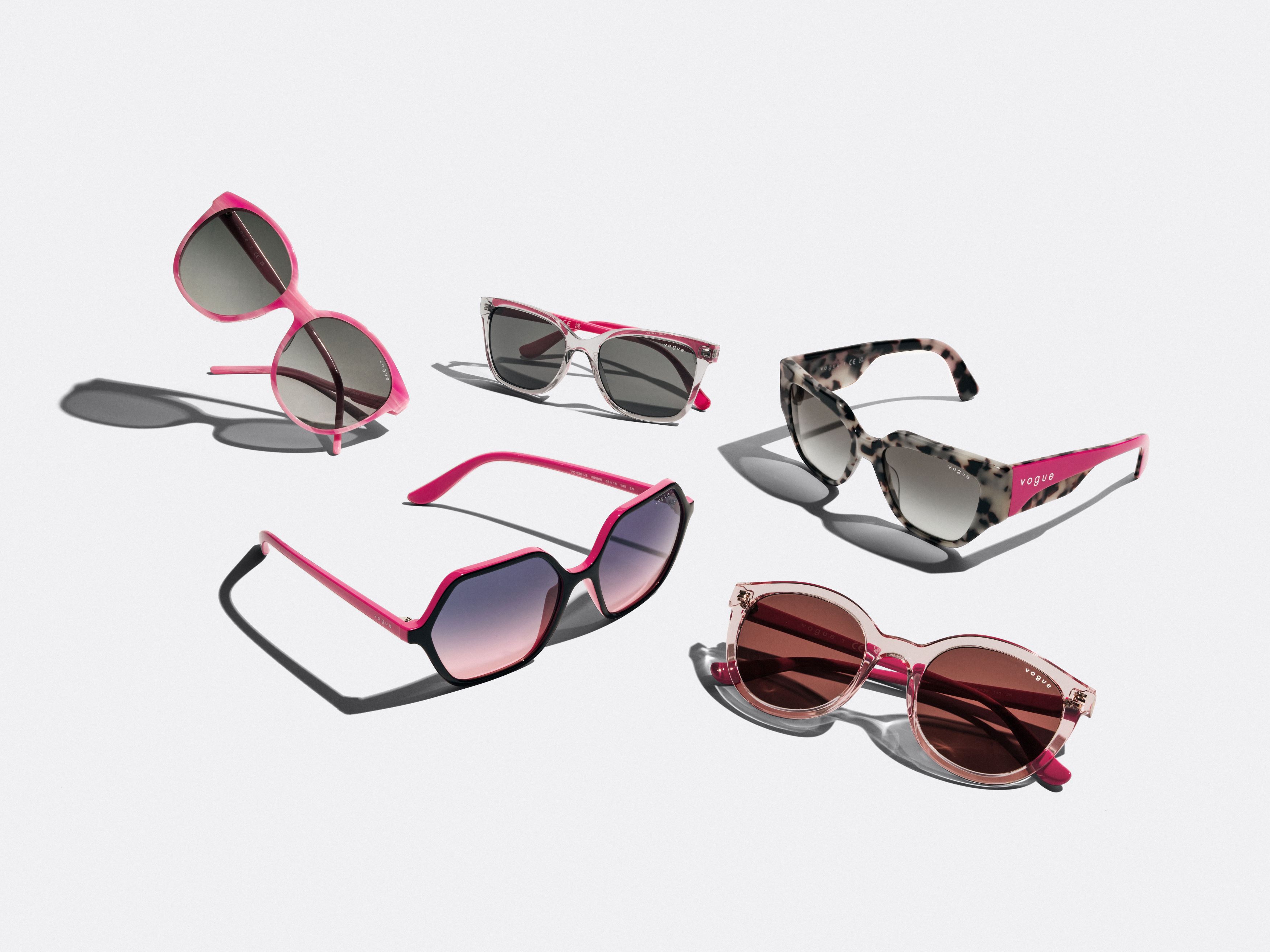 Vogue Eyewear Celebrates 50 Years
An ode to its beginnings, present and future, Vogue Eyewear dedicates its 50th anniversary celebrations to everyone who has shaped the way we see the world since 1973. Colorful, inclusive, and creative, the brand celebrates how real people make the trends an expression of more than just fashion: it's about being proud of who you are and having the confidence to make it a look. And that's exactly how Vogue Eyewear is celebrating its big five-O.

Since its inception, Vogue Eyewear has celebrated leading fashionable muses like Kate Moss, Gigi Hadid, Deepika Padukone and currently Taapsee Pannu and Hailey Bieber, and given them a chance to frame their own take on fashion. It's about playing with Vogue Eyewear to find your personal style. Because more than just glasses, Vogue Eyewear is your personal style enhancer.

Jam packed with fun, interactive expressions of what it means to be in vogue, the campaign frames the brand's constantly evolving vision through a 50th Anniversary Capsule of best-seller Vogue Eyewear styles. And its favorite color is pink, Hot Pink. Provocative and bold, this wide-spectrum tone embraces the complementary reality of rebelliousness and inclusion, a sense of belonging and the power of identity, playing with identifying elements in unexpected ways, just as the brand plays with its own logo – creating a futuristic new 3D metallic bubble-letter logo specially for the anniversary campaign – or revamps archive stars with contemporary attitude and a hot pink makeover of their packaging.

Here's a look into some of the 50th anniversary styles that celebrate each decade such as the original 70s stars and bold profile glamor, as well as easy-to-wear looks of Y2K generation or the glam-chic retro shapes of the 2000s.
| | |
| --- | --- |
| | 0VO5509S- Coloring up vintage design with a trendy pop of color and original high-volume style, the 50th Anniversary campaign star proves that original design never gets old. Revamping an original oversized shape from 1973 in exclusive new hot pink or archive-inspired beige horn-effect acetates, clear gradient lens shades pair with a 50th Anniversary print on the temple to give it a unique profile, a dedicated hot pink pouch, cloth and box add irresistible celebration status. Also available in a super-oversize caliber and Asian fitting. |
| 0VO5409S- Fusing contemporary trends with the charisma of evergreen design, head-turning volumes and glowing textures define this bold trendmaker. Made of quality acetate, the ultra-wide temples feature a distinctive curved bevel in celebratory hot pink and sized-up logo for unmistakable Vogue Eyewear attitude, dedicated hot pink packaging with the new metallic logo give it extra special anniversary status. | |
| | 0VO5361S- Fashionable and fun, stylish angles and gradient lens colors play up the dedicated hot pink & black profile of this trendy 50th Anniversary Celebration edition of a bestseller style, lightweight profiles make it super easy to wear. Just add a dedicated 50th Anniversary printed temple, hot pink box, pouch, and cloth with the new metallic logo, and its ready to celebrate every day in Vogue Eyewear. |
| 0VO5426S- Revamping an evergreen shape with trendy transparent fronts and dark shades, this stylish rectangular shape is the definition of easy to wear, hot pink temples give it a playful side. Made of light nylon fiber, a dedicated 50th Anniversary printed temple, box, pouch, and cloth, makes sure it's ready to go wherever life takes it, in celebratory style. | |
| | 0VO5427S- Light, chic and packed with personality, this celebratory edition of a bestseller shape flaunts a head-turning new profile. Born to make casual glamour fun, a fresh color combo with see-through fronts and colored lenses shows up the gaze of those who love to celebrate their style, tapered 50th Anniversary temples in hot pink and a dedicated hot pink box, pouch and cloth add an irresistible touch of Vogue Eyewear attitude. Also available in Asian fitting. |