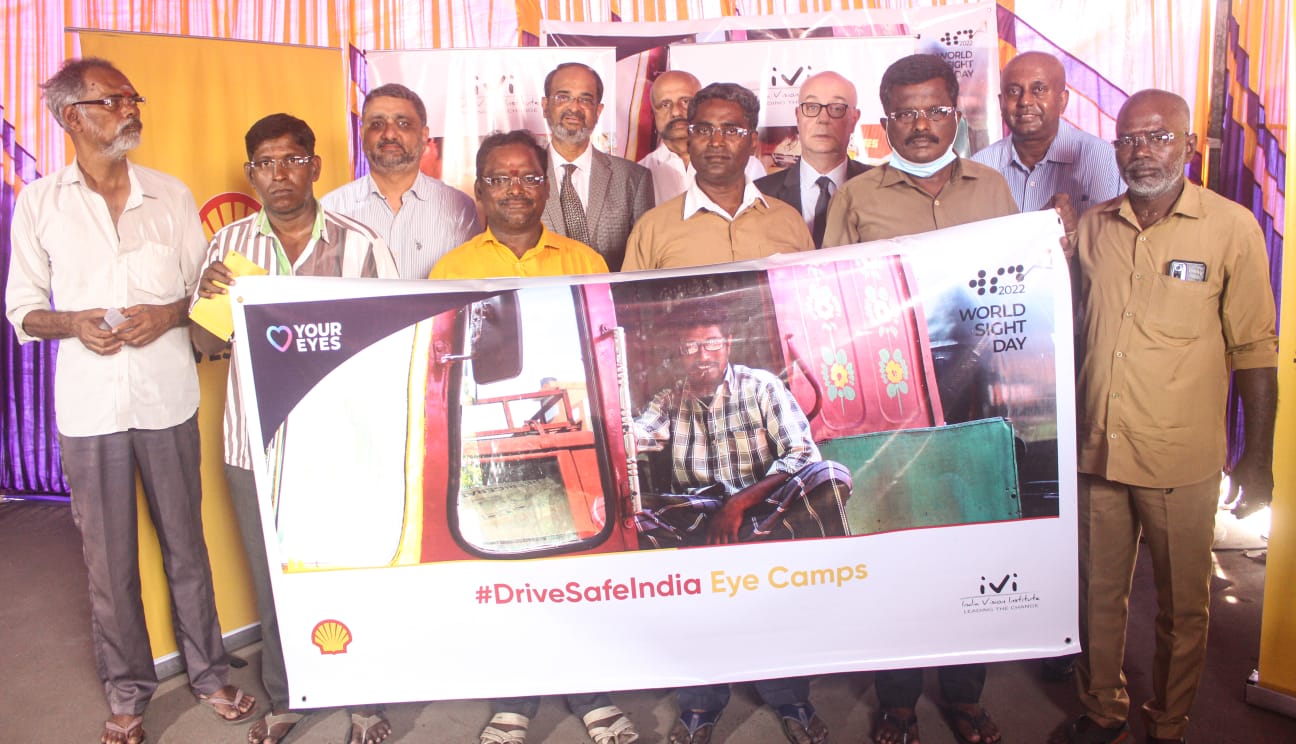 India Vision Institute launches phase two of Drive Safe India Campaign screenings in Tamil Nadu.
India Vision Institute (IVI), an NGO working to provide access to vision testing and spectacles to the underprivileged in remote parts of India, launched phase two of Drive Safe India campaign in partnership with Shell India today for the vision screening of commercial drivers in Tamil Nadu. The campaign is a part of Shell's Drive Safe India and aims to benefit 25,000 commercial vehicle drivers in Tamil Nadu. 
The campaign aims at conducting eye camps for commercial drivers and allied transport workers to check their eyesight. In poor eyesight, the drivers are dispensed eyeglasses. For other serious eye conditions, they are referred to undergo the proper treatment required for the eye condition. Vision screenings will focus on cities and towns and national and state highways in the state.
The phase two of the campaign was officially launched in Chennai in the presence of the British Deputy High Commissioner Paul Dryden, IVI's CEO Vinod Daniel, Rtn Satish Jupiter, President, Rotary Club of Chennai Towers, Mike Muralidharan, Chairman of Ethiraj College for Women, along with a representative from Shell India.
In the first phase of the campaign during October 2022-January 2023 in Karnataka, 32,000 commercial vehicle drivers were covered in Bangalore, Mysore, Dharwad, Belgaum, Hubli.
IVI's CEO Vinod Daniel said, "We are pleased to join hands with Shell in the Shell India's Drive Safe India Campaign in Tamil Nadu, January-March 2023. Earlier, in Karnataka, of the 32,000 commercial vehicle drivers screened, 57% people required corrective glasses, 22 % people had never had an eye examination. We have so far vision screened some 120,000 drivers, including through the Shell-supported program. An IVI survey showed that the three reasons they did not get their vision checked were lack of awareness, affordability, and access. This program is developed to address all these constraints." "Good Vision in drivers makes roads safe, improve productivity and contribute to 
achieving the UN SDG targets," Mr. Daniel added.
Latika Taneja, Head of Corporate Relations, Shell India said, "Promoting road safety practices and implementing safety for drivers has always been a priority for us at Shell. We work closely with local communities and global partners to prevent road fatalities around the countries of our operation. Our community initiative, Drive Safe India, in partnership with India Vision Institute and other NGOs, is committed to bringing down the traffic accidents attributed to impaired vision and creating an ecosystem that encourages safe behavior on India's roads."