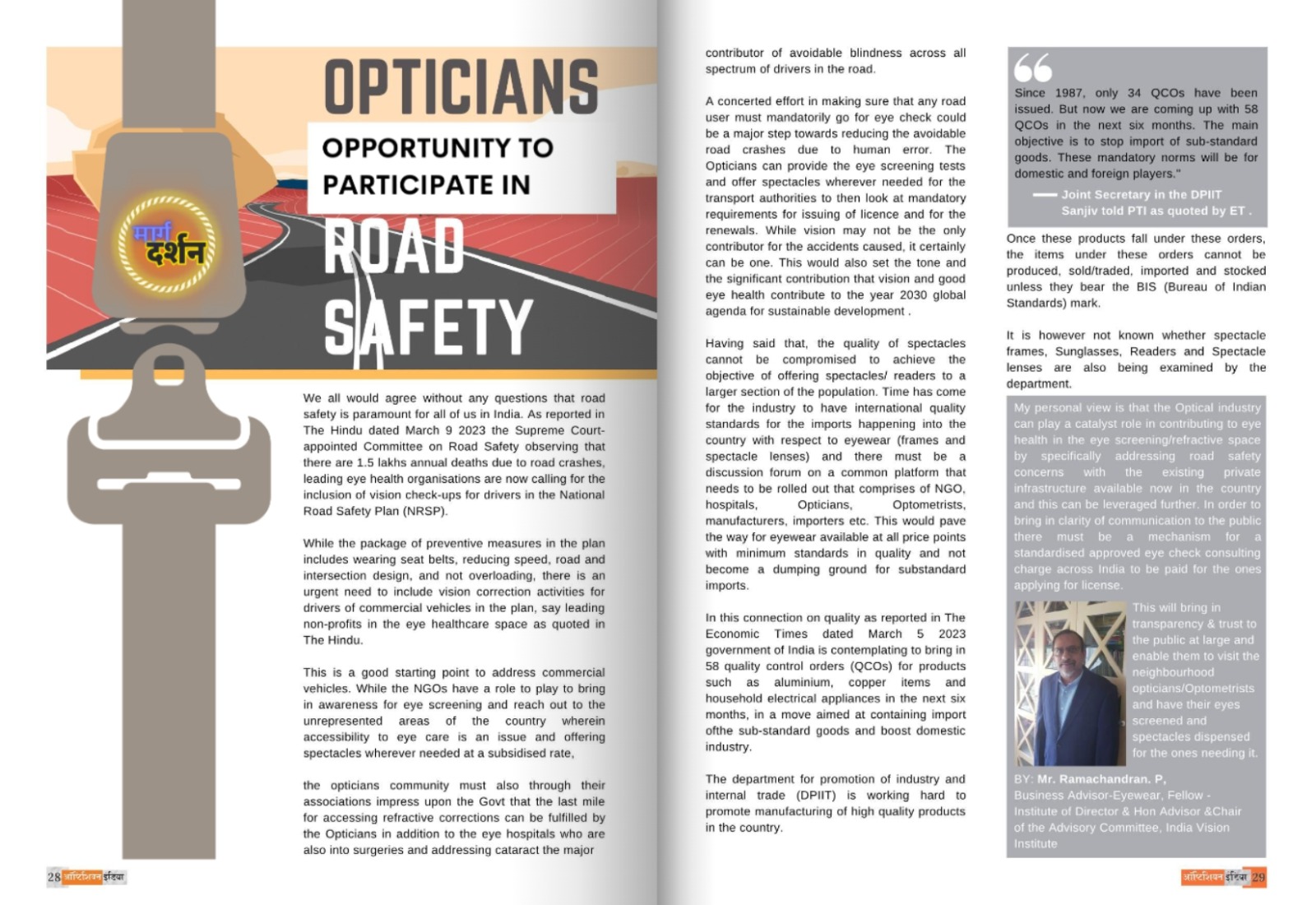 Opticians - Opportunity to Participate in Road Safety
We all would agree without any questions that road safety is paramount for all of us in India. As reported in The Hindu dated March 9 2023 the Supreme Court-appointed Committee on Road Safety observing that there are 1.5 lakhs annual deaths due to road crashes, leading eye health organisations are now calling for the inclusion of vision check-ups for drivers in the National Road Safety Plan (NRSP).

While the package of preventive measures in the plan includes wearing seat belts, reducing speed, road and intersection design, and not overloading, there is an urgent need to include vision correction activities for drivers of commercial vehicles in the plan, say leading non-profits in the eye healthcare space as quoted in The Hindu.

This is a good starting point to address commercial vehicles. While the NGO's has a role to play to bring in awareness for eye screening  and reach out to the unrepresented areas of the country wherein accessibility to eye care is an issue and offering  spectacles wherever needed at an subsidised rate , the opticians community must also through their associations impress upon the Govt that the last mile for accessing refractive corrections can be fulfilled by the Opticians in addition to the eye hospitals who are also into surgeries and addressing cataract the major contributor of avoidable blindness  across all spectrum of drivers in the road . An concerted effort in making sure that any road user must mandatorily go for eye check could a major step towards reducing the avoidable road crashes due to human error. The Opticians can provide the eye screening and test and offer spectacles wherever needed for the transport authorities to then look at mandatory requirements for issuing of licence and for the renewals. While vision may not be the only contributor for the accidents caused, it certainly can be one.  This would also set the tone and the significant contribution that vision and good eye health contribute to the year 2030 global agenda for sustainable development .

Having said the quality of spectacles cannot be compromised to achieve the objective of offering spectacles/ readers to the larger section of the population. Time has come for the industry to have international quality standards for the imports happening into the country with respect to eyewear (frames and spectacle lenses) and there must be a discussion forum on a common platform that needs to be rolled out that

comprises of NGO, hospitals, Opticians, Optometrists, manufacturers, importers etc. 

This would pave way for eyewear available at all price points with minimum standards in quality and not become a dumping ground for substandard imports.

In this connection on quality as reported in The Economic Times dated March 5 2023 government of India is contemplating to bring in  58 quality control orders (QCOs) for products such as aluminium, copper items and household electrical appliances in the next six months, in a move aimed at containing import of the sub-standard goods and boost domestic industry. The department for promotion of industry and internal trade (DPIIT) is working hard to promote manufacturing of high quality products in the country.

"Since 1987, only 34 QCOs have been issued. But now we are coming up with 58 QCOs in the next six months. The main objective is to stop import of sub-standard goods. These mandatory norms will be for domestic and foreign players," Joint Secretary in the DPIIT Sanjiv told PTI as quoted by ET .

Once these products fall under these orders the items, under these orders, cannot be produced, sold/traded, imported and stocked unless they bear the BIS (Bureau of Indian Standards) mark.

It is however not known whether spectacle frames, Sunglasses, Readers and Spectacle lenses are also being examined by the department.

My personal view is that the Optical industry can play a catalyst role in contributing to eye health in the eye screening/refractive space by specifically addressing road safety concerns with the existing private infrastructure available now in the country and this can be leveraged further. In order to bring in clarity of communication to the public there must be a mechanism for a standardised approved eye check consulting charge across India to be paid for the ones applying for license. This will bring in transparency & trust to the public at large and enabling them to visit the neighbourhood opticians/Optometrists and have their eyes screened and spectacles dispensed for the ones needing it.
---------------------------------------------------------------------------------------------------------------------------
Mr. Ramachandran. P,
Business Advisor-Eyewear, Fellow -Institute of Director & Hon Advisor
&Chair of the Advisory Committee, India Vision Institute